Bloomberg's shamelessly racist policy of "Stop and Frisk", will be ending soon in New York. Or so we hope. I propose an aspirational memorial to its passing (of the "good riddance" variety), in the form of an interactive installation where suspicious participants are subjected to a semi-invasive robotic/mechanical frisking. The working title of this project is "RoboCop".
The suspicious participant approaches a wall with markings indicating where to put her hands and feet.
When the suspect is in place, an audio track begins, explaining the procedure. The audio will be sourced from this recording of a police harassing a teenager during a stop.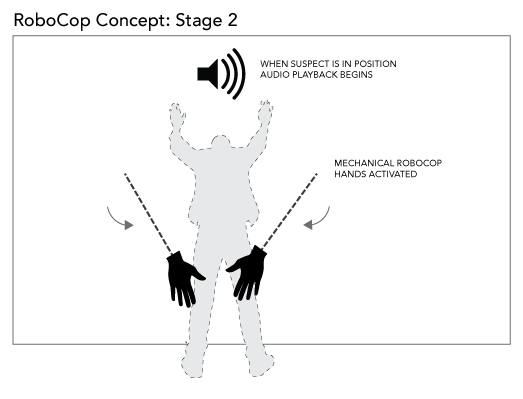 Mechanical hands will lift raise, wrap themselves around the suspect, and vigorously frisk the legs, butt and torso. The frisking will only intensify if the suspect attempts to remove herself from the designated position. 
Once the suspect has been thoroughly frisked and berated the arms will lower and she will be free to go. The system works!
Getting yelled at and felt up by this robot is exactly as effective as the measures currently in place, but far more efficient.